What is TreeFolks Young Professionals?
TreeFolks Young Professionals (ages 21 – 40ish) volunteer, educate, fundraise, and build community in support of the mission of TreeFolks: planting, caring for, and giving people free trees to plant!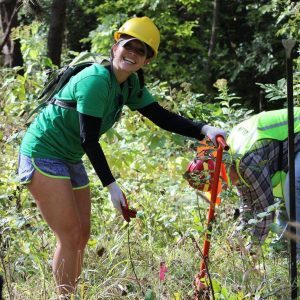 Service
TreeFolks has planted more than 2.8 million trees across Central Texas. TreeFolks Young Professionals' volunteerism and gifts support the next million.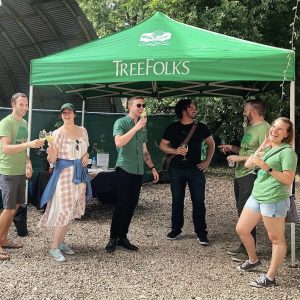 Social
Keep up with us on Facebook or our Meetup.com group and make new friends at group volunteer events and socials like Tree Mappy Hours and Solstice parties.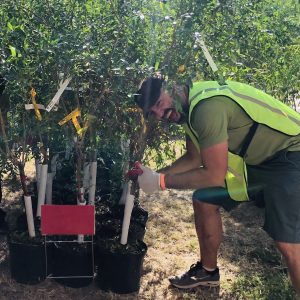 Education
Learn and teach more about our urban forest, how to keep it healthy, and how to keep it growing.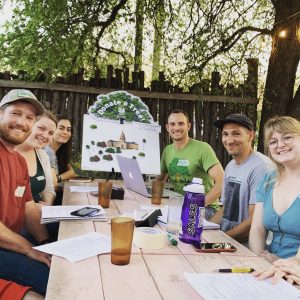 Membership
Grow your positive environmental impact, knowledge, and circle of friends by becoming a TreeFolks Young Professional Member.
View our membership options!
Why Support the Urban Forest with an Annual Membership?
Become a Supporting Member
Support the Central Texas urban forest with an annual membership. Please select a TreeFolks donation level below:
Tax Deductible TreeFolks Donation

$60/yr

(Thanks!)

Membership Bonuses:

TreeFolksYP Tee Shirt

TreeFolks & TreeFolksYP Event Discounts
BAND App Community Access
Meet Our Core Team
Kyle Hoskins
I work on a computer all day, so I love a chance to get outside and hike, kayak, or play sports (mostly tennis these days). I volunteer with TreeFolks because it gives me a chance to support planting trees all across Austin!.
James Odom
Hello! I'm James Odom and I am part of the TFYP Executive Committee for 2023. I moved to Austin from Raleigh North Carolina in late 2018 and got involved with treefolks shortly after.
Andrew Overby
I have always been interested in environmental & nature-related topics, and spend a lot of time outside when I can. In the past, I have done some gardening, and look forward to helping plant lots of trees!
Elizabeth Bennett
I love being out in nature and am passionate about environmental issues. Unfortunately, the focus of my work is in a different area, so I was excited to find Treefolks to lend my time and energy toward such a great cause.
Richard Hammond
I've always loved being outdoors, immersing myself in nature. I'm grateful to have a job that takes me all over the state, exploring the many state parks that Texas has to offer. TreeFolks allows me to use my skills and give back on a local level.
Timothy Brown
I have spent over half of my life outside; I love the outdoors. As an environmental engineer and nature lover, I have always tried to think of creative ways to sustain and enhance our environment. I'm a firm believer that if new ways and approaches are incorporated, huge strides will be made towards the future improvement of the environment. TreeFolks allows me to get creative, use my hands, and get involved in whatever capacity. Since Mother Earth has opened her arms to us, I guess it's only ri
Alexis Elio
I am passionate about the power of policy to improve quality of life and protect natural resources. While my work provides an abstract understanding of the environment, it is important to me to enjoy our city's beautiful natural areas and diverse communities, too. TreeFolks offers the opportunity to ground my green advocacy in a like-minded team and get my hands dirty in the best way — planting trees!
Casey McGoun
I love spending time in nature, especially while mountain biking and hiking. TreeFolks allows me to connect with my interests, learn, and give back in a meaningful way.
Jackie Vay
As an Austin native I have always enjoyed the many green spaces our city has to offer. TreeFolks helps me get outside more and gives me the opportunity to improve our local environment together. I'm excited to be a part of the team!
Sam Levin
I've always valued the chance to make a positive impact in my community and strongly believe everyone needs to play a part in supporting the environment and local ecosystems. TreeFolks provides a great opportunity to improve our community and connect with other like-minded environmental advocates. I'm excited to play my part!
Amanda Sullivan
I am passionate about connecting children to nature. It makes me smile when they pick up a big-as-your-face sycamore leaf or try to hug a live oak as a class. Volunteering to create positive environmental impacts brings me joy and purpose. I think the benefits trees give a beautiful example of the interconnectedness between people & the land. I am thrilled to serve others in this capacity.
Kristina Gaudin
I work as a Teaching Assistant in a Montessori School. Nature and education are huge parts of my life. In my free time I love to hike, learn about birds, read, and learn about botany. TreeFolks gives me a chance to address my concerns about our climate and the environment in a positive and productive way.
Kelsey Daugherty
For as long as I can remember, I have spent every second possible outside. I love nature and am passionate about preserving our beautiful surroundings for Austinites now and for generations to come. Volunteering with TreeFolks is special because it allows me to give back to the community while doing what I love!
Sabina Sheppard-Olivares
The best part of living and working in Central Texas are the green spaces and urban forest. I love TreeFolks' mission of building community through planting trees!
Kiana Salazar
I love spending time in nature and making art of all types. I try to incorporate plants, environmental protection, and community improvement with my art and service projects. I work with kids every day and am amazed by their creativity and enthusiasm to protect the spaces they inhabit. TreeFolks allows me to do what I love with like-minded folks and allows me to learn about how to better serve my community and the Earth that houses us.
Christina Sze
With TreeFolks I'm looking forward to being outdoors and in fresh air while cultivating a healthier environment for Austinites and the creatures that live here. I've always found joy by being in nature and from caring for plants and watching them grow. I'm excited to be joining a team that is enthusiastic about planting and stewarding the environment together!
Cage Johnson
I love trees!
Lauren Chavez
Nature has always been a source, where I find inspiration and tranquility. I am excited to volunteer with TreeFolks and make a meaningful contribution to the community by helping to preserve and enhance Austin's green spaces for current and future generations to enjoy.
Zinnia Gibson
I'm just your run-of-the-mill tree enthusiast passionate about spreading tree love. TreeFolks gives me an opportunity to use that enthusiasm to create a meaningful impact on the community.
Ronald Downs
Outside of my career, I enjoy spending time in nature and giving back to the ATX community. Austin TreeFolks offers the chance to make a positive impact on our local community and environment at large.
Ed Griffin
Howdy y'all! I see TFYP as a pro-active way to help build an environment for the future generations of the Austin community to enjoy and do a small part to take action towards fighting climate change. I've been an East-Austinite for the past 2 years where I'm surrounded by Pecan, Oak and the odd Magnolia, everyday I see the huge impact the trees have on the different types of wildlife in the area. Whilst my indoor Fig Tree collection isn't in the best of shape, my dozen or so succulents are thri
Alexis Dorn
I am a QA engineer by day, social cause champion by night. I love to bring my passion for causes away from the computer and outside in nature and my Austin community. I believe in the One Health approach, where the health of our environment is intertwined with the health of animals and our community. I've worked, volunteered and sat on the board of other animal welfare and community development nonprofits.
Rosaline Chen
I love all things related to sustainability and zero-waste lifestyles, and I love helping others tap into their environmentally-conscious best selves to save our planet. My favorite tree encounter has been the redwoods in California. You know that feeling of when you are a tiny being existing in awe under a looming behemoth that is expansive in all directions and rich with history? I have been chasing that ever since.
Leah Frizzell
I currently work a desk job, and miss my days out in the field as an environmental scientist. I have volunteered for years with a variety of STEM and environmental outreach groups in both New Orleans and Houston for over 10 years. I am new to Austin and happy to get involved with Tree People and our community. If I am not at work or the gym I'll be happy to help out with whatever events we have!
Leah Thibodeau
I moved to Austin four years ago and have since bought a house and planted two trees from TreeFolks! I work in the creative and marketing field, and when I can get away from my desk, I love learning about sustainable living and exploring TX with my camera and pup, Beau.
Zach Rubin
I work with computers and numbers a lot, but I'm passionate about nature and trees. I really like working with my hands and looking at a project when it's finished (like planting a baby tree)!
Eduardo Rosillo
I amm an avid runner and soccer player who enjoys being active and spending as much time outside as possible. I have a patio where we have already planted a tree from TF. My intention is to learn support my community, give back to this city that has given me so much, and find an excuse to be outside.